Dealing with Urinary Incontinence
| | |
| --- | --- |
|   | Urinary incontinence is a common problem among the elderly, reaching 35% of the global population aged 60 and up. It is caused by many factors, namely diabetes mellitus, diabetes insipidus, or an enlarged prostate, the most common among men. The earliest recorded treatment was in Ancient Egypt, where a pad is prescribed "to remove constant running of the urine" |
Nowadays, treatment varies from simple exercises to medicines, and even surgery. Kegel exercise is a conservative management of urinary incontinence, especially that of the stress-induced type. It consists of regularly contracting and relaxing the muscles responsible for urinary voiding – the pelvic muscles. This makes stronger muscles, giving a better ability to control the flow of urine. Another conservative management is weight loss among obese individuals, and stress avoidance.
Another way to treat is by medications, but the risk of side effects are always a concern. The success rate is also very small, with only one in ten achieving the desired result. Surgical methods, such as sling procedures, a trans-obturator tape, or bladder repositioning. But the success rate is moderate at the most, and risks, particularly for the elderly, are often compounded.
Apart from the exercise, treatment options are expensive, with little proven benefits and large potential risks. No wonder that absorbent products are the most popular, most convenient, and least expensive way of dealing with urinary incontinence. Products like these range from protective underwear, drip collectors, pads, shields, and adult diapers.
Here are some of the adult diapers…*Incontinence pads, guards, and liners are inserts that secure to undergarments with an adhesive strip. They are often less bulky and are easy to remove and replace when soiled. These are great as low-profile solution for those suffering from light incontinence. Guards for men are light incontinence pads that are designed to fit the anatomy of men. These are some of the examples…Pads for her…
   Guards for him… 
  Liner… 
*Belted shields or undergarments are hybrid that combined a pad or liner with a belt or strap that can be worn with or without regular underwear. This is a less bulky alternative to disposable underwear or absorbent briefs.Some of the examples are…  
*Protective underwear also known as disposable pull-ups and reusable underwear. Each offers varying degrees of absorbency, moisture wicking capability, and odour control. One of the features is the tear-away sides that allow easy removal for caregivers, and their full-profile coverage gives a high degree of leak protection.
Some examples are…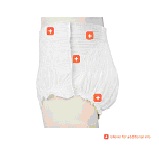 *Disposable briefs, typically known as adult diapers. These are highly absorbent and feature side fasteners that apply from front to back, rather than through the legs like protective underwear. Adult diapers are often used for heavy incontinence, night-time wetting, and those who need help getting to the bathroom. There are many brands and designs in the market, mostly with great absorbency, comfortable and breathable outer layer.
An example of brief…   
Source: http://www.budgetdiapers.com/about-incontinence-products/
Adult diapers, in particular, is the most advantageous because they can be bought at most pharmacies or supermarkets, they do not need any specialist for the person to use it, and are generally an inexpensive option. In fact, a German study concluded that most geriatric patients preferred diapers over medications and catheters.
So despite the millennia that spanned when it was first written in papyrus by the ancient Egyptians, the best way to treat incontinence, with its practicality, convenience, and safety, is still the use of an absorbent pad – the adult diaper.
References:
Schultheiss, D. (n.d.) A Brief History of Urinary Incontinence and its Treatment. Retrieved on April 24, 2015 from http://www.ics.org/Publications/ICI_4/files-book/historique.pdf
Shamliyan T, Wyman JF, Ramakrishnan R, Sainfort F, Kane RL. Benefits and Harms of Pharmacologic Treatment for Urinary Incontinence in Women: A Systematic Review. Ann Intern Med. 2012;156:861-874. doi:10.7326/0003-4819-156-12-201206190-00436
Pfisterer M., Johnson II, T., Jenetzky, E., Hauer, K., and Oster, P. (2007). Geriatric Patients' Preferences for Treatment of Urinary Incontinence: A Study of Hospitalized, Cognitively Competent Adults Aged 80 and Older. Journal of the American Geriatrics Society, 55(12), 2016-2022.