There are mainly two types of incontinence aids to consider when choosing the right product that one needs: one is those worn with one's own underwear and another type is those that replace it. Each type has a number of choices, so deciding a right product may base on comfort, cost and features that meet one's requirements.
Here are some of the choices:
*Incontinence pads, guards, and liners are inserts that secure to undergarments with an adhesive strip. They are often less bulky and are easy to remove and replace when soiled. These are great as low-profile solution for those suffering from light incontinence. Guards for men are light incontinence pads that are designed to fit the anatomy of men. These are some of the examples…
Pads for her… 
  Guards for him…
  Liner…
*Belted shields or undergarments are hybrid that combined a pad or liner with a belt or strap that can be worn with or without regular underwear. This is a less bulky alternative to disposable underwear or absorbent briefs.
Some of the examples are… 
*Protective underwear also known as disposable pull-ups and reusable underwear. Each offers varying degrees of absorbency, moisture wicking capability, and odour control. One of the features is the tear-away sides that allow easy removal for caregivers, and their full-profile coverage gives a high degree of leak protection.
Some examples are…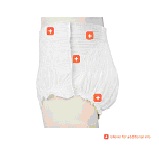 *Disposable briefs, typically known as adult diapers. These are highly absorbent and feature side fasteners that apply from front to back, rather than through the legs like protective underwear. Adult diapers are often used for heavy incontinence, night-time wetting, and those who need help getting to the bathroom. There are many brands and designs in the market, mostly with great absorbency, comfortable and breathable outer layer.
A example of brief… 
*Cloth Diapers, these are washable and reusable diapers made of natural fibers, man-made materials, or a combination of both. The products have also evolve with times and modern technologies as well as designs. They are often made from industrial cotton which may be bleached white or left the fiber's natural color. Other natural fiber cloth materials include wool, bamboo, and unbleached hemp. Man-made materials such as an internal absorbent layer of microfiber towelling or an external waterproof layer of polyurethane laminate (PUL) may be used.
*Plastic Diapers, Similar to cloth diaper, plastic or rubber or polyester diapers are usually very durable and long lasting and are machine washable and dryable. There are mainly pull-on type which is perfect for people who are mobile, while the snap-on designs work very well for people who use wheelchairs, or are assisted by caregivers dressing. However, plastic diapers are not recommended for side sleepers as gaps between snaps may allow leakage. Low cut style works well with regular underwear, pads, or light weight disposable diapers.
Some of the examples are… 
*Washable Diaper Cover — Washable Diaper Covers – Washable diaper covers are washable, reusable underwear designed to fit over disposable diapers or pads to prevent leaks onto clothing and to hold diaper in place. Diaper cover is a good alternative to normal underwear as it works well with pads, guards and liners. Some designs have "holder" whereby layers of washable "inserts" can be added on depending on requirement.
Some of the examples are… 
*Washable Underwear – These are absorbent washable, reusable underwear from Salk eliminates the need for disposable diapers or pads. Built-in soft absorbent core draws wetness away from the skin. Feel protected in underwear that looks and feels like regular briefs or panties.
Some of the examples are… for her 
   for him 
*Mesh Support Pants — Stretch mesh fixation pants designed specifically for wearing with Shaped Pads to hold the pad correctly for the optimum fit for leakage security and comfort.
Some of the examples are…